This Tutorial is been given to me by palol, thanks to him for this great TOOL!
Well you can now see the Middle Easteren Sections and Rooms with this great tool,
called Applocal Utility! Can be downloaded with a search in Google!
But can only be used through Balool! Isnt it great!
Example BEFOR, Installing Applocal Utility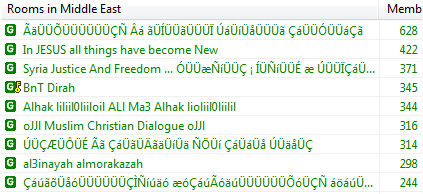 Example AFTER Installing the Applocal Utility
A section from Saudi Arabia:


A section in Farsi or Persian Section / Iran


You can watch the full Tutorial on http://www.Youtube.com/BaloolPaltalk
[youtubevideo:idd0fb0u]8Rd5l8QzuzU[/youtubevideo:idd0fb0u]
Applocal Utility for Balool Paltalk, Supports Multi Language on your Local and Computer!
Supports more than 200 Languages!
Example for Languages below:
عربي 中国 русски, Arabic, Chinese, Russian, Vietnamese, Thai, Hindi, Nepal, Iranian / Farsi, Afghan / Dari and a many other Languages!
This a feature in Balool that is probably not used a lot "support for Microsoft AppLocale Utility". It's something that was requested long ago, before Balool existed and allows users to use a different locale for Paltalk without having to change the system locale, as far as we talk, speak and read in different languages in countries. This is gonna help many.
Text Tutorial:
Here are some instructions:
Look out for AppLocale Utility (search for "microsoft applocale utility" on google)
Download Install it (beware, on vista and 7, a workaround is needed, But it works for mostly Windows versions, If you get the problem, then you google for "microsoft applocale utility uac") for Vista and 7 only!!
1; Close and Exit Paltalk or Balool (Totally)
2; Start "Balool! Launcher Configuration" (shortcut is in the start menu) and in Balool Folder!
Set the AppLocale to "Arabic – Saudi Arabia", Save and close (Exit)
Start "Balool! for Paltalk Messenger"
Go to the rooms in "Middle East" "Saudi Arabia"
Now Normally, you should see the arabic text correctly! And works also in the rooms and pms!
Thanks to palol for making the Tutorial, Edited by me